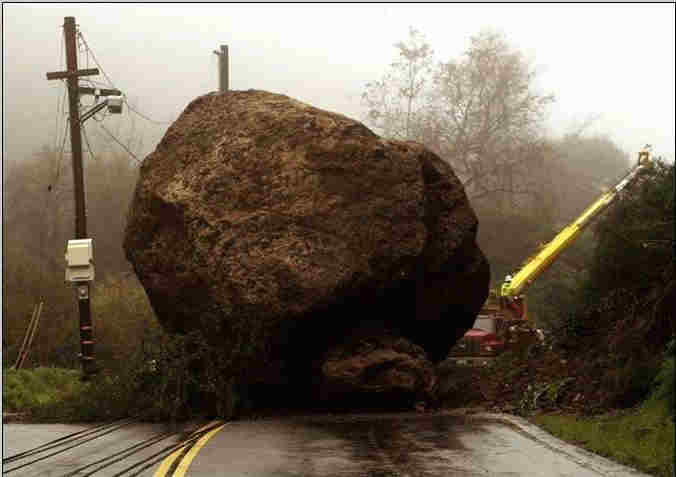 It's not a new fact that we are our own worst enemy. As we continue on this Life Changing Journey of weight loss, of moving forward, of taking control I believe the biggest road block we face is the one we build in our minds…
"I will never be able to (insert what ever you want here)"
"I can't lose (insert number here) pounds"
"I lost (insert number here) pounds but have gained (insert number here) pounds back"
"I'm not good enough"
"I can't control the way I eat"
"I've been stuck at this weight forever and nothing is changing"
"I've always wanted to (insert anything here) but will never succeed"
Seriously this list could go on and on and on (and on and on and on). Anytime I think about taking on a new physical challenge that road block starts to come down. I immediately tell myself it's never going happen. I'm going to fail. Everyone around me will see me for the failure that I truly am…
Here's a funny thing: NO ONE THINKS I'M A FAILURE.
Every time I've said to someone "so I'm thinking about doing (insert some crazy insane idea here)" No one has ever said to me "Tara, maybe you should rethink that idea". Now I'm not talking about doing something totally insane like what we've all been witnessing the last few days with Felix Baumgartner and his 24 mile free fall jump out of a freaking space capsule do-hickey but for me some of those things I've set out to accomplish feel just as big as his jump.
I'm not talking just physical feats either. It seems that no matter what we want to accomplish that road block likes to come smashing down right in the middle of everything and stops us in our tracks.
Why?
Why?
WHY?
So let's talk about my road block shall we? I made the announcement about doing something I've been wanting to do for a long time.  It's something that I feel very strongly passionate about and when I close my eyes and see it coming to fruition it feels absolutely right.  There are only two things I've been very certain about in my professional career. The first being an ASL interpreter. Since I was a little kid it's what I wanted to become. In my early 20's I  was in school for interpreting and stopped short because of that road block. For 8 years I let that dream sit on the side lines. Never thinking I was good enough. All the while people told me differently. When I went back to school in my early 30's I went after it with a vengeance. Everyone around me telling me how good I was and that I had a natural skill for using ASL. But that damn voice in my head. That damn roadblock. I graduated top of my class but I was one of the last working interpreters. I didn't believe in myself. I didn't believe in my skill. Instead I thought about going into the mountains and becoming a camp counselor all year round.
Slowly I chipped away at that road block.
I had to trust my ability.
I had to trust my hard work.
I had to trust my commitment.
I had to trust those around me.
Not to toot my own horn (TOOT TOOT), but I'm very good at interpreting
The other thing I am certain about in my professional career is becoming a Life Coach with a focus on weight loss. I think about it all the time. As soon as I started losing my weight,I knew it was for good because I allowed that small fire to ignite that I finally understood that this journey of losing weight is not just about the physical pounds we carry on our bodies but also the emotional pounds we carry on our heart (mind and spirit). When I started talking with other people about their journey's and sharing my experiences I felt that fire grow with such an intensity that even I couldn't deny this was where my Life Changing Journey was taking me; into the lives of other people wanting to make the same changes.
And yet that road block exists.
Will people trust in me? Will people pay me? What if I launch this program and not one single person signs up? What if I say the wrong thing? The road block gets bigger and bigger. I've been wanting to do this for over a year and much like my desire to become an interpreter, this dream has been sitting on the sidelines because that road block is smack dab in the middle of everything. But the difference this time is that I'm going to trust my abilities and go head first into this endeavor. I'm going to trust in my hard work. In my commitment and most importantly I'm going to trust in those around me that know for certain that this is the path I am meant to travel.
When you close your eyes and you see that dream, whatever it may be, it's not fair of you to just let it go. It's not fair to those around you. They want to see you succeed. They want to see that things are possible no matter how difficult it might be to achieve. Not only is it not fair to them, it's not fair to YOU. You have those dreams for a reason. You have those desires and goals for a reason. It's because you were meant to go after them. When that road block comes down in front of you, you have to do whatever it takes to get around it. Chip away at it little by little or get a bulldozer and knock it the fuck out of the ball park. That road block is not there because other people put it there.
It's there because you put it there.
It will only get out of the way when you decide to remove it.
It won't be easy and it may come crashing down again and again but trust in your ability to succeed. Trust in your commitment. Trust in your hard work. Most importantly: TRUST IN YOURSELF…