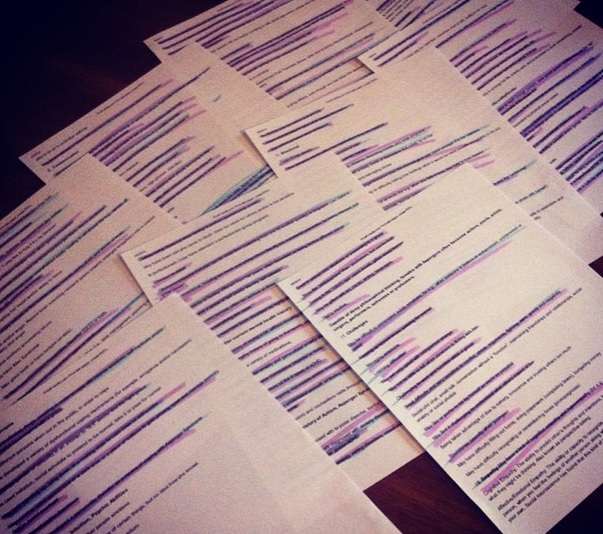 A few weeks ago I posted this picture on instagram.
It's the official "unofficial" working screener document consisting of the unique characteristics and traits of adult women with Asperger Syndrome, or Aspienwomen (ps: I hate the term Aspienwomen but that's neither here nor there) by Tania Marshall. When I first sat down with this 10 page document with it's lists and lists of common traits I didn't know what to expect. I mean I know my own ticks, quirks and habits but since I've not had much contact with other people with Aspergers, I spent most of my life just thinking I had more ticks, quirks and unusual habits than the average Joe.
I sat down with a highlighter and began meticulously going one by one through the characteristics. By the first page I knew there was going to be a lot of high lighting happening. I didn't just willy nilly say "yep", "yep", "yep" through the list. I thought about each one. Thought about my daily life. Thought about my childhood. My adult hood. Then high lighted accordingly. When I put the list down an hour later, at least 85% of the list pertained to me. When I sat down with Mimi later that day and went through the list again, she helped me see (with an outside perspective) that in fact about 95% of the list pertained to me….
Paying for an official diagnosis is hard to come by. Almost impossible since most medical professionals focus on young children when diagnosing this relatively "new" phenomenon. Unfortunately it's not new. Today they say Aspergers. Growing up they said "unsocial", "loner", "likes to be alone", "very intelligent, ahead of her class, but lacks social skills"…yadda yadda yadda.
I don't know why this list is so important to me, but it feels like a blessing and a curse.  At the same time that there is a HUGE relief that someone out there is actually saying "hey, you know all those things that made you feel weird and embarrassed and misunderstood?…there's a name for that shit",  there is also a new wave of embarrassment because I have to face facts that I see and deal with the world around me in a very different way than many of my peers and unfortunately most of my peers don't understand so the only way they're going to understand is if I advocate for myself and educate people about what it's like living with Aspergers.
Working at Costco I find I have to constantly "explain" myself. From forklift drivers, to managers to coworkers who don't understand why I didn't laugh at a joke or think I have an attitude. Constantly having to talk myself down from anxiety because moving fast doesn't always work with my thought process of "remember this and this and this and this and this and then don't forget to do this and this and this and this" all while looking at one particular item on the shelf.
When I do get up the courage to say "yadda yadda yadda….aspergers….yadda yadda yadda", the common response is "What is Aspergers"…how do you explain something so complex in a few sentences? You can't. I have a list now that I suppose I could show people but in the end most people just won't get it.
But I have a list now. That means that someone out there actually gets me on a medically professional level. Those ticks, quirks and habits happen for a reason and not just because I'm "unsocial" or a "loner". That my need to "remember this and this and this and this and this and this" before moving on to "remember this and this and this and this" has a rhyme to the reason. That my sensitivity to light, sound, textures and just about anything else you can think of actually has a reason to the rhyme. That even the smallest "off" can be the biggest "on" for anxiety, and crying and not knowing how to react in certain situations.
I'm not even sure what the point of this post is today. I don't want to be embarrassed anymore. I want to be empowered. I don't want to have to explain myself over and over again but I suppose that's the only way the people around me will understand a little more clearly what it's like living as a person with Aspergers.
(hint: it's complicated)