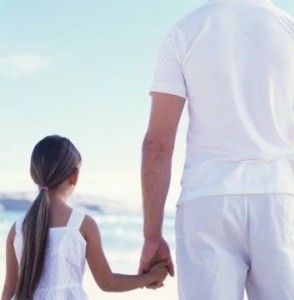 One thing that I'm trying to commit myself to doing is reading more blogs. It's hard to keep up with everyone and even though I wish I could get paid to read/respond to all of those blogs out there, it just can't happen. But sometimes you come across a blog post that sits with you more heavily than others. So much so you're not even sure how to respond…
My friend Martinus wrote one of those posts last week.
He writes about having a father. A father that left when he was young. A father that is now sick and he's hearing the dreaded "he's not doing well" message (meaning Martinus should make amends before it's too late).
This is part of our life changing journeys that I like to call "Oh well fuck me aren't you just rearing your ugly head at the wrong time thank you very much emotions". (PS if you're new to this blog; I eff bomb quite a bit…you have been warned). I wanted to comment on his blog post. I wanted to leave some words of wisdom that would brush the dark clouds of emotional weight aside and give him the virtual "you're going to be okay" warm fuzzy feeling but in the end after staring at my computer for a few minutes all I could type was this:
"I have a lot to say but need time to collect my thoughts"
And in my thoughts Martinus has been ever since. So much so I put this blog post on my to-do list as a reminder to come back and leave those thoughts for him, not on his blog post but here for the masses to read because it is in the masses that we find understanding, compassion and that almost inperceptable nod of the head that sends the much needed "I get this" message.
One of the things I rarely talk about here is my own father. I know I've mentioned a few times that he left when I was barely six weeks old and for most of my life I had been plagued with the "he left because of me" or the "why wasn't I good enough for him to at least be a part of my life" feelings that later became the catalyst of the Freudian-like behavior of using my body because I thought that was the only way I could get someone to love me.
On my eighteenth birthday I sat by the phone expecting him to call.
For some reason I had devised this fantasy that the only reason he never contacted me (and when I say never contacted me I mean he.never.contacted.me.once.ever) was because he was waiting for me to become an adult and the day I turned eighteen would be the day I would hear the phone ring and on the other end would be him after all these years proclaiming he loved me and that I was the most beautiful daughter in the entire world.
But that day came and went as did the previous 6,528 days before.
Fast forward to being thirty. Ten years after my mother passed away. The phone did ring and on the other end was his voice. He didn't come looking for me. I went looking for him and after some letter writing to an ex-wife of his that I found by happenstance; she led me to my paternal grandmother who then led me to him, the man that helped bring me into this world.
Him: "How have you been?"
Me: "You mean today or the last 30 years?"
That phone call led to us writing letters back and forth for a bit. In those letters he said one of the most profound things I've ever heard and it was in those words that the forgiveness began: "There is nothing I can do to change the past. I am an old man and my actions come with consequences that lay heavy on my heart. I have to carry those consequences with me to my death bed and for that I am sorry" He didn't try to give me an excuse ("your mother and I were fighting too much", "I tried calling but…."). He just took responsibility for his actions and knew that there were consequences…
We met once for a few hours a couple of months after our initial phone call. In those few hours I saw the things in him that I didn't see in my mother. I saw the other half of who I was biologically and it closed a much needed door that I had been trying to shut for thirty years. He told me things my mother never told me (how they met, his relationship with my half brothers) and as I said goodbye he hugged me. Hugged me like a father should hug his kid but knew it would never happen again. It was desperate and full of "I'm sorry".
His actions had consequences.
I came home and returned to my life. A fatherless life. A few years later I received a phone call from his wife Diane informing me that he had been sick and passed away. I naturally asked about funeral arrangements and when it was silent on the other end for an awkward moment or two I asked again about the funeral…
"he died three years ago"
Martinus, here are my thoughts: Your father knows what he did wrong. You can't go through life and not know when you screwed things up. He was in your life for many years and then he wasn't. You didn't disappear from his thoughts, or his heart. He missed out. His actions have consequences and he is fully aware of that.  When my father was sick and he knew he was dying he chose to leave this world with that burden on his heart and for that I am grateful. He knew there was no point in trying to amend the past again one last time for the sake of his own conscious.
If you want to be with him at this time of his life that is totally up to you. You can not let your family dictate what you should and shouldn't be doing. His actions has consequences and those consequences come in the form of "Martinus has every right to do what he feels is right for him, not for his father". If you want to see him it will be because you need to close that door for you, not for him. My father knew I had closed that door when I drove away that afternoon. He did me a favor by not trying to pry it open one last time.
If you ask me I think this journey is more about emotional weight rather than physical weight. How we deal with shit when it rears its ugly head and spews it's venom is up to us. We can no longer soothe pain with food. At the end of the day, the ice cream tub is empty and we still feel raw, exposed and vulnerable. When we feel pain we need to allow ourselves the right to feel. Being hurt or confused is just as important to our emotional stability as feeling elated and clear headed.
And just as the actions of others have consequences, so do our own actions.
If you can live with them then I say you're making the right choice.
Whatever you choose.