Have you ever been so tangled up inside you're at a loss to find some cohesion in your emotions?
That's how I'm feeling this week.
I know the words are inside of me. The emotions, the tears, the immense love for those around me both near and far. The feeling of "why is this world such a fucked up place?" and "how am I supposed to make sense of anything when right now so many things don't make sense at all?"
I feel awkward in my existence right now. This blog, when it first became the inception of 263andcounting was about weight loss and my daily workouts at the gym with Superman and Godfather. Over time it slowly turned into much more than just  the weekly weigh ins, the miles run and the journey from a size 24 to a size 8 pair of jeans. 
It has become about living life.
It has become about finding the strength to live in the face of fear, in the confusion of changes and in standing up as tall as possible even when I've fallen flat on my face. It has become about standing on the edge of the unknown and with all my heart jumping as fiercely off that edge and waiting to be caught in the arms of the most beautiful woman I've ever laid eyes on. About understanding that my gender is as fluid as water in a glass and will shape and mold according to what I believe and not what others believe.
It has become about making sure my eyes are open, my emotions are allowed and in all of words that I lay here to rest, in hopes that someone will find comfort, I am finally fully participating in my life instead of watching the days go by and wondering "is this all there is?"
This week has been one that I would rather just tuck away and forget about. The kind where you sit down, take a deep breath and wonder if you can just sleep away the next few weeks in hope of finding some comfort in the sadness that surrounds you. A few days ago I learned that a friend I worked closely with during my days at Sorenson had succumbed to the cancer that had attacked her body for many years. I haven't seen her since leaving almost 2 years ago but knew through updates of those still close to her that it was just a matter of time. When she was first diagnosed, the prognosis was not about the years left but months. In the face of death she had life. She made peace with how the ending of her story would be told but she continued to add chapters to that story far beyond what the doctors thought. They told her to get her affairs in order and what she did was continued to fight for years after. Seeing her daughter not only marry but becoming a grandmother along the way. I remember she would tell me that she may have not had been the best person in the choices and decisions that she made. I would tell her that the choices and decisions of the past do not dictate who we become in the present and in those words I was able to forge my own present instead of living in the past.
I'm saddened at her loss not just because she was my friend and cubicle mate for many years, but because on the fateful night of December 29, 2009 when I proclaimed my life changing desire to stand up and take control she was there with me along with 2 other people. She watched the transformation day in and day out and always was quick to keep me enveloped in encouragement.
(Thank you for your friendship Deb)
A passing of a friend is never easy.
Add to it a second passing in a matter of days and life feels heavy.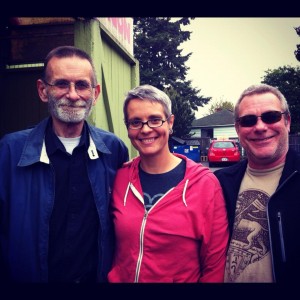 I'm not even sure how to comprehend the passing of my friend Dave. As of this writing I don't even know what happened I just know he's not here anymore. He's on the right. This picture was taken last summer when Mimi and I headed back to Tacoma to see friends and family, retrieve Dusty and begin the 10-day, 3500+ mile drive across Canada back to Halifax. The men in this picture were more than my friends back in the days of being a body piercer, working in the tattoo shop with Gary (on the left). They were my family. I spent the best white trash holidays with them a girl/boy from the 253 could ask for; "Thanksgiving in a Can" (everything we ate came from can), "Jello Christmas" (everything we made had to contain jello), shootin possums (they shot, I watched), and if ever a man was able to perfect the "Bad Boy with a heart of pure gold", it was Dave.
Funny thing is that when I left body piercing I didn't see either of them for many many years. I would drive by the tattoo shop and think about stopping in but never did. I moved back to Tacoma and the memories of days gone by stored themselves away.
Last year, through the divine intervention of social media I tracked them down on Facebook along with a few of the other kids from the tattoo shop. When Mimi and I got married we ventured into my friend Roni's shop and just like old times I sat in her chair getting a part of my story etched into my skin. Roni didn't recognize me but that's expected when the last time you see someone they weigh almost 300 pounds. It didn't take long for me to be caught up in the lives of the friends I didn't realize I missed so very much.
When we returned in June I made sure I got to see both Gary and Dave, even if just for a short time. I missed them both more than I realized the second I saw them. They hadn't seen me either since losing the weight and it took a little time for them to adjust to who they were looking at but it didn't take long before we were talking about old times and poor Mimi may have just come to really understand how much white trash blood pulses in my veins after meeting these guys.
Right after this picture was taken, Dave put his arms around me and said "You've done real good Tara. You look great. Meegan is absolutely beautiful and you are going in the right direction of your life".  We talked about seeing each other again when I was able to come back and parted ways as if it had only been weeks and not years since we last saw each other.
Yesterday I got news that he passed away.
Suddenly and unexpectedly.
Of all the people I could have seen when I went home last summer the universe put him in my path and I am forever grateful for that last hug, that last pat on the back and that last completely contagious smile that made "Crazy" Dave one amazingly bad boy with a heart of gold.
(Thank you for your friendship Dave)
I am saddened this week to the point of being exhausted. I miss everything back home immensely and wish I could just sit down with a few people and have a good cry over the loss of two friends in such a short amount of time. No one here in Halifax even knows who I'm talking about when I mention them. Mimi was fortunate enough to have spent a few hours with Dave and through friends she shared conversations about Deb and the progression of her cancer. But I don't have that strong embrace and "remember when" connection with anyone here. That silent pause between two people as you think about the passing of someone and the memories shared with those that knew them the same as you.
I miss my neice Amy as she prepares for her wedding and I'm not able to sit down over coffee and tell her how much I love her and how I wished she was still that adorable 5 year old with a cast on her arm flinging herself into my open arms never to let go. I miss my aunt Kathee as she continues to forge ahead in life showing me that there is indeed life beyond the 52 years my mother lived. I miss my brother Kerry as I mourn the alcoholism that will probably take him from this place sooner than later. I miss my brother Kevin who, through all the muck that is this Carlson family, reminds me that while he may not be able to be a part of all that defines me, he is a still part of the definition of Tara.
In the sadness of those separated from me in distance and now in life itself, I find comfort in the love of those close by. The strong embrace and comforting words from my beautiful Mimi, the acceptance in her family as I ever so cautiously strip away my inherit definition of family and rewrite that chapter of my own story and the new friends I forge life long memories with here in this tiny corner of the world known as Halifax and in this insignificant blog once known as 263andcounting but now known for what life really is…
A Life Changing Journey.