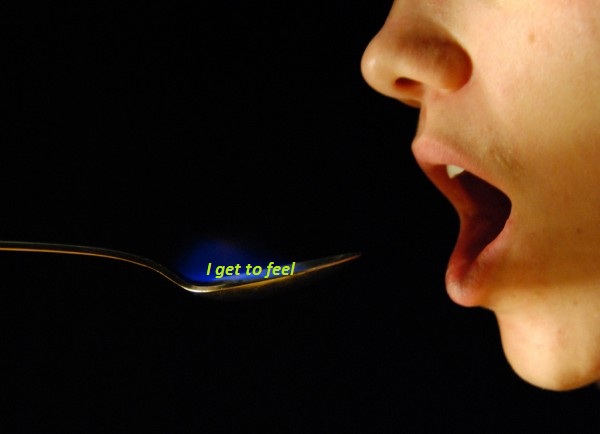 Here is something I know to be true;
I am very good at giving advice.
This is because I've done a lot of work (emotionally, mentally and physically) over the past two years trying to change my life for the better. Something else I know to be true? Some days I need to really listen to what I'm saying because the one person that needs to hear it the most is me.
When I sit down to write a blog post I'm mostly thinking about what people want to hear. What's going to motivate them to keep moving forward, to keep pushing themselves to reach farther than they think they can and go after the life they deserve?  I get easily frustrated with how my posts are going because while I want people to pump their fists in the air and proclaim from this very moment that "This is my life and I deserve to live", I'm also trying to keep my own emotions in check. I'm am in desperate need of my own medicine. I feel like I am standing firmly in the life I want to lead when all of a sudden the ground opens up under my feet and my emotions come rushing up at me and I don't know how to contain them.
If someone says to me "Tara, I don't know how to feel my emotions" I usually respond with "Just feel. Sit with them. It's only when we stop bottling them up or sugar coating them with food, that the emotions truly leave us and we are free to live." And yet, here I am this week with some deep emotions and instead of taking my own advice of just sitting with them,  I'm looking for ways to bottle them up, dip them in chocolate, top them with whip cream, nuts and a cherry and pretend that everything is okay.
The truth is:
Everything is not okay.
I am feeling a severe amount of guilt over the choices and decisions that I made back in April to leave my husband Mitch when I found myself falling for Meegan after meeting in person for the first time. Don't take this post as a "I never should have" with Meegan. I should have and don't regret anything we've done together over the last eight months. I knew my relationship with Mitch was heading in another direction before meeting Meegan, I just didn't have the courage to say / do something before hand. I should have and that's part of where the guilt is coming.
I still have some contact with him because we share the financial responsibility for the dogs that we have. I can't bring them to Nova Scotia with me and he has the house so it just made sense to leave them there in his care. This means that we need to communicate about what the dogs need and I need to find ways to make sure they are taken care of to the best of my ability from way over here.
This also means it opens the door to emotional upheavals every few weeks as we hash and re-hash hurt feelings of betrayal, lies thought told and accusations of ruining one life while trying to find happiness in another. It's been a roller coaster ride of emotions and with the holiday season here in full regalia I am struck to my core with feelings of guilt and not liking what I see when I look in the mirror. I am in the middle of a full blown attack of my emotions and I am unsure how to get control of them.
It's hard to tell someone "You deserve to feel your emotions and you deserve to have the life you want" when I am in the mind frame that I am undeserving of anything because I caused someone else so much pain. What should be a joyous time preparing for Christmas is quickly becoming like a knife in my side because it reminds me that for the first time in ten years he probably won't do anything to celebrate. No tree. No lights. No frantically searching for that perfect gift.
I am constantly thinking about what his life is like and how lonely he must feel. What should be a quick text about making sure the dogs have enough food turns into hours of finger pointing and "how could you(s)". I can't get rid of the feeling that I did something awful and he won't recover emotionally. I took the leap of finding happiness and now feel like I landed in a big pile of "Way to go Tara, you fucked things up again".
It's hard to be in my own skin. To shut down the voices. To keep the tears from coming. I try to tell myself to feel the guilt, to feel the sadness for him. That without feeling those things I can't truly get back to feeling good about myself. It's affecting the way I eat (not eating enough because I don't deserve to feed my body), it's affecting the way I am around Meegan (I don't deserve to be loved) and it's affecting my moving forward (I'm unmotivated because of feelings of I don't deserve to physically take care of my body).
I try to talk to myself like I'm talking to a friend;
"You deserve to be happy"
"You can't control some one else's emotions"
"Meegan loves you very much"
"You know it was the right decision"
"He will be okay"
"You need to let go of the things you can't control"
Nothing is working. I'm trying to be patient with myself. I have lots of time these days to work through these feelings of inadequacies. Too much time in fact. Nothing like being unemployed, unable to work and having to spend day in and day out in your own mind. At a time with everything should be new, exciting and full of promise, I'm stuck with my face in my palms, tears streaming down my face and feeling more desperate to eat my way through all these emotions.
I'm not sure there is a point to this post. This was definitely about me just letting some stuff out. Letting it go to the universe the best that I can. I am not in a good place today but that doesn't mean I have to stay here. I won't turn off my emotions because I am scared to feel them. I won't turn them off because I feel like I don't deserve to be happy. I will do my best to make food choices about nutrition and not about covering up something I am afraid to feel and I will try to be mindful that I'm not eating enough. I will try to be patient and remind myself that this is how I feel right now but it may or may not be how I feel an hour from now, a day from now, or a week from now.
I will try to take my own medicine
And hope it works.